We Provide Technology Movers in Los Angeles, CA
Reliable, Safe Technology Movers in Los Angeles, CA
When a technology company moves offices or relocates, its tech transfer and tech logistics must be handled with care. At  L.A. Machinery Moving, we know how important it is to coordinate a stress-free, seamless transfer of tech equipment and technology to a new location. Our team of experienced technology movers in Los Angeles, CA can offer different levels of technology logistics and tech services based on your needs. We'll take care of moving equipment and technology with our high-tech transportation services so that you can focus on the more critical aspects of your move. Call our team of tech and equipment movers today or fill out our online contact form to learn more.
Specialized Equipment and Technology Relocation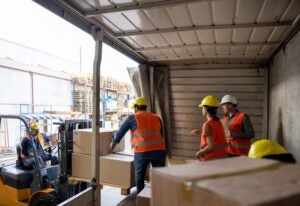 L.A. Machinery Moving handles specialized equipment and technology relocation with care. When you rely on our team of experienced tech equipment movers, there will be no downtime during tech transfer and relocation. We work closely with you at the onset to coordinate and plan the precise timeline for your move so that everyone is on the same page about the priorities and schedule. Before starting, we consider network security, security systems, and security threats at your new location. We also investigate your hardware and equipment needs at the new building. Finally, we create a plan for network preparation and connection so that we're completely sure that the necessary IT infrastructure is in place at the new location so that we can get you up and running quickly during the move.
Specially Designed Trucks for Sensitive Tech Transfer
The trucks we use for our tech logistics and tech transfer services are specially designed to move sensitive and delicate equipment. We can safely move even the most complex, heavy, and expensive equipment and technology. Our equipment movers make every effort to move large pieces safely and securely without dismantling them, to save you time and reduce downtime. However, if a piece of equipment is too large or delicate to move in one piece, we will dismantle it, move it safely, and reinstall it perfectly at your new location. Our technology movers are extensively trained in tech logistics. They can handle moving equipment and technology of any size and scale, including large servers, sensitive tech equipment, manufacturing equipment, computers, workstations, phones, printers, copiers, electronics, and peripherals.
Technology and Equipment Mover Process
We work closely with our clients during each stage of your equipment and technology move:
Pre-planning – We'll work closely with you and your team to plan every step of the moving process, so you know exactly what to expect. We'll discuss priorities, scheduling, cost, and timeline. We create a fully customized tech logistics plan that ensures minimal downtime and a seamless move.
Specialized packing and prep – We offer specialized packing, crating, and palletizing services so that your large equipment and technology are secure for moving. We can prep electronics, servers, computers, racks, mainframes, workstations, computers, printers, copiers, phones, peripherals, and equipment for safe and secure transfer to your new location.
Move management – Our technology movers and equipment movers are fully supervised and managed throughout the entire process to make sure we stay on schedule and don't miss a thing.
Moving and staging – Our project manager oversees the moving process and ensures no last-minute surprises. We work precisely but efficiently. When we reach your new location, we assist with staging, so you know exactly where everything is and won't have to move anything yourself.
Unpacking and installation – We do that part too if you need assistance with unpacking and installing. We can quickly get everything unpacked, reassembled, and installed so you're up and running as quickly as possible. We also offer rack set-up and assembly.
Network cabling – We handle all network cabling needs so that your computers, equipment, and technology are ready when your employees arrive.
Security set-up – If you have a security system or other security equipment that needs to be set up, we're happy to handle that for you.
Post-move support – Once you've resumed work, you might realize that there's something you wish we had done differently. We offer post-move support to reconfigure, move, and relocate equipment and technology throughout your new space.
Why Choose LA Machinery Moving for Technology Logistics
Our team works with care, precision, and efficiency to ensure that you have a stress-free move. We hire technology movers and equipment movers who have years in the industry, and we train them fully in the best practices of technology logistics and sensitive equipment moving. We have extensive knowledge of moving and configuring complex network hardware, large heavy equipment, delicate equipment and technology, and sensitive machinery and hardware. We work closely with each client through every step of our commercial moving services, so there are no surprises and no tasks left undone. There is an art to equipment and technology moving, and we are dedicated to perfecting our craft. Our high-tech transportation and tech logistics team can handle large-scale moves, full data center migrations, and full tech and equipment set-up.
Contact Us for Commercial Moving Services in Los Angeles, CA
Contact our team of experienced technology movers today to get a quote for commercial moving services in Los Angeles, CA. We work with businesses of all sizes and industries to provide a seamless, stress-free move. Call us today or fill out our online contact form to request a quote.
Why Choose Us?
We provide a personal touch and treat your machinery as if it were our own.
We ensure that your equipment remains in perfect condition.
We delivery machinery with speed, efficiency, and safety.
We have a capacity to crate and ship equipment internationally.
We offer free estimates and quotes.