Machinery Moving & Storage Services in Los Angeles, CA
LA Machinery Moving: Experts in Heavy Equipment Moving
When it comes to your business, you can only afford to trust the very best. LA Machinery Moving provides Los Angeles with professional machinery moving, equipment handling, warehousing, and more. We work in a diverse portfolio of different industries, including power generating equipment and aerospace industry equipment. Our team transports a diverse spectrum of goods from various industries with care and proper handling techniques. What we offer most, though, is peace of mind. You won't have to worry about your industrial equipment as it is in safe and expert hands. We provide reliable services, follow strict safety protocols, and staff only highly-skilled professionals. Our goal is to provide you with a personal touch and treat your machinery as if it were our own. Read about our services and contact us today to schedule your professional machinery moving. We even relocate internationally.
Heavy Equipment Moving Services
Storage Services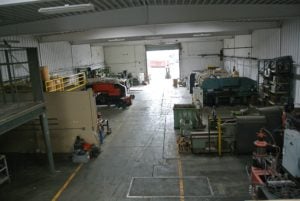 Take advantage of our 100,000 square foot storage facility with 40,000 square feet of warehouse storage space. We offer month-to-month leases, competitive rates, and provide the third month free on new storage agreements for three months or longer. Best of all – we don't require a deposit for your storage usage. We also provide free pick-up and delivery to Orange County in which you can load using our transport vehicles. We strive to provide the best customer experience in Los Angeles. Our team understands the need for safe, secure storage for medical, aerospace, and other types of equipment and machinery. We operate under a strict database management system with 24/7 video surveillance, fire and burglary monitoring systems, and experienced staff. Talk to us today about your storage needs, and we'll find the perfect solution for you and your company. Learn more about our storage services here.
Contact Us Today to Get Started
For over 25 years, we have offered our services throughout Southern California, from San Diego to Santa Barbara. We cover the surrounding areas of Los Angeles, Irvine, Riverside, Bakersfield, Santa Fe Springs, Camarillo, and everything in-between. We're there where you need us. Moving can be overwhelming, but it doesn't have to be. Let us help you streamline the process by offering to do what we best – literally heavy lifting. We can help you relocate your business, store expensive machinery, and pack up tools for you, letting you focus on the details you need to stay on top of your business. You take care of running your operation; we'll handle the rest. Call us today to chat about your moving and storage needs.