Southern California's Machinery Moving Specialists
Orange County's Professional Machinery & Equipment Movers
Businesses looking to move machinery in Orange County CA need a reputable company they can trust with their equipment. LA Machinery Moving has spent over 25 years performing machinery moving for our local Southern California clients. We put expert thought and care into every move, which is why Orange County businesses trust us for worry-free transport of their processors, formers, and other types of machines. Let our professional machinery and equipment movers handle the crating, packing, and transportation so that you can keep your mind on your business operations. We welcome various sizes of moving projects, from running smaller equipment down the block to transporting an entire warehouse of manufacturing machinery to a new space on the other side of Orange County. Our top priority is your complete satisfaction with the move, which prompts us to take special care of each piece of machinery to avoid any damage or loss during any step of your project. You can count on us to make your machinery move a smooth endeavor.
Types of Machinery We Can Transport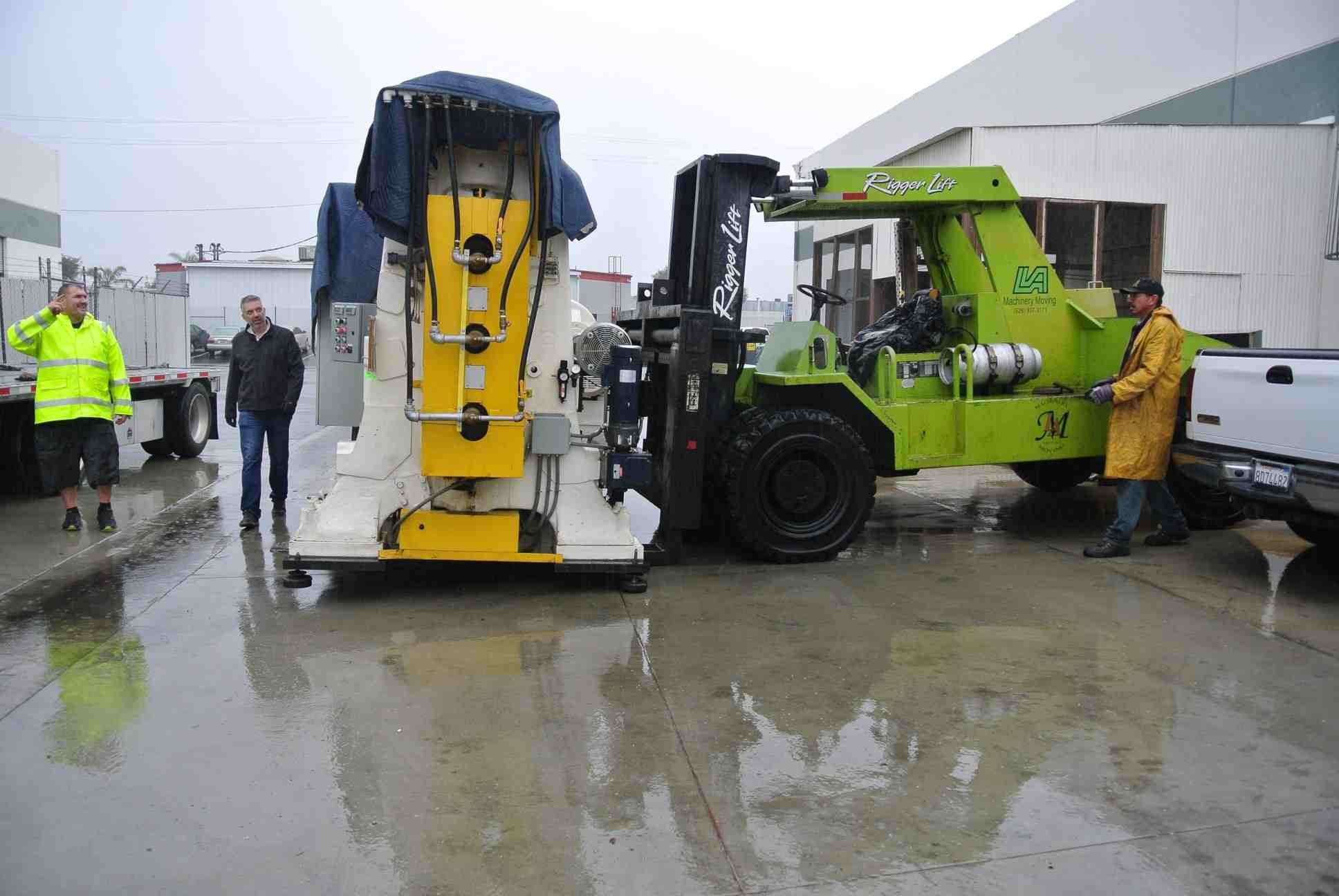 Heavy equipment and machinery moving is a unique project for many reasons. These include the investment you put into your equipment and your business's dependency on said equipment functioning without any problems once the move is complete. Attempting to move your machinery and equipment to another location yourself can result in damaging the items or injuring yourself or your staff. LA Machinery Moving has the training and experience to safely transport your valuable machinery without risking the well-being of your team members. We've served as professional machinery and equipment movers for clients in a wide variety of industries in Orange County, CA. Our years in business include moving manufacturing machinery, aerospace industry equipment, and power generating equipment. We also have experience moving electrical equipment, such as transformers, power plants, cables, motors, and many other components. Other types of machinery and equipment we specialize in moving to include the following:
Packaging Machines
Stamping Tools
Welding Machines
Printing, Folding, and Paper Cutting Machines
Food Processors
Rubber and Plastic Machines
Metal Formers
Cutting Tools
Sensitive Technology
And many other types of machinery
Using State-of-the-Art Equipment for Your Move
LA Machinery Moving makes it a point to care for the condition of your machinery and equipment while we handle it. Our team of talented and knowledgeable movers has the expertise and professional manner to ensure it stays in the same condition throughout packing, crating, loading, moving, and unloading. To make the project safe and timely, we use up-to-date equipment in the process to carefully and precisely move your items. These pieces of equipment include our fleet of flatbed trucks, trailers with air-ride suspension, forklifts, and cranes. The members of our team have the necessary training to make every step of the process run smoothly. By utilizing the best methods, equipment, and automotive resources in the industry, we execute your machinery's transport reliably and safeguard the condition of each piece. From the start of your move to when we unload and unpack the last item, you get professional machinery moving that only decades of experience can deliver.
Move Your Equipment to Storage Safely
When you need to move your heavy machinery into storage for long-term or short-term holding, LA Machinery Moving can help you with every part of your business's needs. You get professional packing, crating, and moving by our team of equipment and machinery moving specialists from your present location to a storage facility, where we also unload it. Another service we offer is our very own storage facility for heavy machinery. We have over 10,000 square feet of storage space available for clients to store their machinery of all types, and you get the same expert care and attention for your items. This service comes in handy for businesses who need to move their equipment out of a facility for any reason, from selling the facility to making room for renovations or new equipment. When your machinery in Orange County, CA has to vacate a space, but you don't have a permanent new location for it, let LA Machinery Moving store it until you find a new home. Once you establish a destination for your machinery, we'll remove it from storage and transport it.
Contact LA Machinery Moving to Get Started
LA Machinery Moving has the moving experts you need to ensure your machinery gets transported from one location to another in the same condition from start to finish. On top of careful steps to safeguard your equipment, we also complete your move in a timely fashion. We understand your business relies on your machinery and equipment, and our movers specialize in making sure your move has as minimal an impact on your operations as possible. Let our professional team handle your machinery moving needs in Orange County, CA. From packing and crating your heavy machinery to loading and transport, we have the equipment and expertise to make your move a delightful experience. Give us a call today to speak with a member of our staff about your machinery needs, and schedule your next move.
Why Choose Us?
We provide a personal touch and treat your machinery as if it were our own.
We ensure that your equipment remains in perfect condition.
We delivery machinery with speed, efficiency, and safety.
We have a capacity to crate and ship equipment internationally.
We offer free estimates and quotes.