Highly-Trained Heavy Machinery Movers in Los Angeles, CA
LA Machinery Moving Offers Reliable Heavy Machinery Movers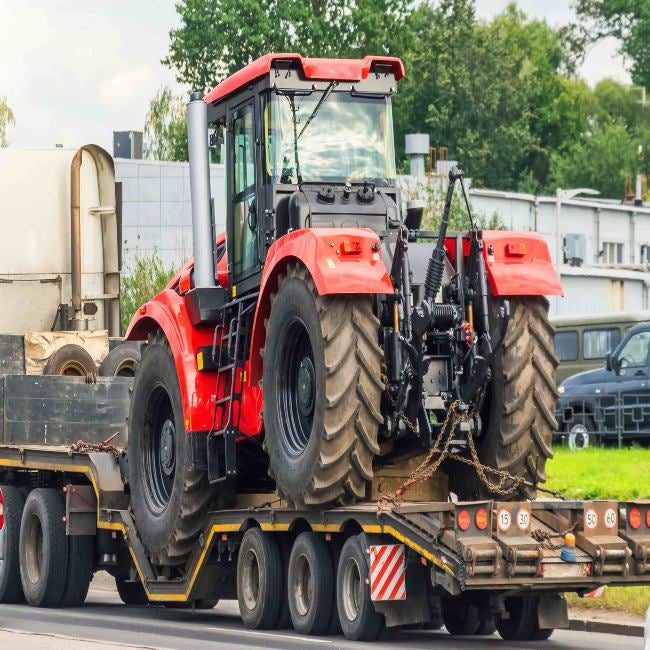 If you're a Los Angeles, CA factory or plant owner preparing to relocate, you likely need to expertise of our professional heavy machinery movers here at LA Machinery Moving. Our team understands this project is a huge undertaking, as plant relocations call for complete dismantling of heavy machinery and equipment before the actual moving process can begin. With three decades in the business and a crew with over 100 years of combined experience, you can rest assured we can handle whatever you throw at us. We have a reputation for superior service, and we live up to this recognition by continually delivering the critical and specialized work required to dismantle, relocate, and reassemble your industrial equipment no matter how big or small.
Plant Relocation Made Easy
The fact is, many moving companies throughout Southern California do not possess the proper equipment to handle a plant relocation. LA Machinery Moving is set up with innovative tools and solutions to confront heavy-duty lifting and transportation challenges head-on. Our top-of-the-line moving equipment enables our trained employees to execute safe and secure transfers no matter if you're moving a county over or internationally. With an arsenal of high-quality moving equipment always at our disposal, we can complete your move on time and on budget. We understand trusting our team to pack up and transfer the critical components to your business can be challenging. Still, we want you to relax knowing your plant and factory machinery are in beyond capable hands, lifts, cranes, trucks, trailers, and a plethora of other specialties? equipment. We will employ any equipment necessary to ensure your plant and factory equipment arrives at its new destination safe and sound.
The Benefits of Taking Advantage of Our Moving Services  
When you're going through a major relocation, it's best to leave the moving to professionals so you can tend to the plethora of other duties assigned to you. No matter the scope of your move, LA Machinery Moving will take care of your entire move so you can focus on your core business. Dismantling, transporting, and reassembling your whole plant may seem impossible, but to us, it's just another day on the job. Relying on our professional heavy machinery movers will give you access to the following benefits you'll have a hard time finding elsewhere:
Plant Disassembly and Reassembly
When you choose to hire a team of moving specialists, you'll be getting more than just the typical moving services. Our professional movers are skilled in the area of plant relocation. We have a keen understanding of the ins-and-outs of packing and transporting your goods, but we also employ a highly-skilled team that can deploy their services to dismantle your plant equipment, safely move it, and then reassemble it once arriving at your new plant location.
Safe Machinery Transportation
For any move, the transportation of heavy-duty plant or factory equipment is the most sensitive step in the moving process. It is of utmost importance that your machinery is adequately secured during transport. Even the slightest jolt or shift can cause irreversible damage to your costly equipment. Don't put your specialized plant devices at risk! When you choose our team of seasoned movers for your plant relocation, you will benefit from an arsenal of cranes, lifts, trucks, and trailers that are specifically adapted for factory relocation. Specialty equipment will also be used to ensure the correct and secure transportation of your plant or factory equipment.
Equipment Warehousing and Storage
If your plant is being relocated to a space that isn't ready for your heavy machinery yet, no problem! LA Machinery Moving has over 100,000 spare feet of storage room with 40,000 square feet of warehouse storage available for all your storage needs. With us, you'll never have to pay for an inconvenience and cramped storage unit. Save time, money, and peace of mind by saving yourself the hassle and rely on our team to store and manage all of your assets for you. We offer competitive rates with no deposit required! Ask our team about our container storage options today for more information.
One-Stop-Shop Services
Moreover, when you can get all the services you need for your plant relocation under one roof, why wouldn't you? It is logistically and financially beneficial to entrust several stages of your relocation to our reputable company. We ensure your move is in very capable hands every step of the way. Customer service is our top priority, and we want our clients to reap all the benefits of our service offerings.
Contact Us Today to Request a Quote!
Whether your plant is relocation across town or across the country, LA Machinery Moving is here for you. As LA's premier choice for heavy machinery movers, we are continually improving our service offerings to accommodate as many industries as we can. We understand that plant relocation is a daunting task for any business, but let us remove some of your stress with our superior solutions. We not only employ a highly capable staff, but we are also equipped with cranes, lifts, trucks, and trailers to help move along the relocation process with ease. If you're ready to begin your big move, contact our heavy machinery movers today to get started! We look forward to making your relocation process as simple as possible.
Why Choose Us?
We provide a personal touch and treat your machinery as if it were our own.
We ensure that your equipment remains in perfect condition.
We delivery machinery with speed, efficiency, and safety.
We have a capacity to crate and ship equipment internationally.
We offer free estimates and quotes.