Freight Shipping in Los Angeles

L.A. Machinery Moving Freight Shipping Experts
Each freight shipping job is unique, with its own set of specific requirements. At L.A. Machinery Moving, we take the time to understand your needs and develop a customized freight shipping plan for the safe and efficient transportation of your freight. Our team of experts prioritizes your preferences, using state-of-the-art equipment to ensure the secure transport of your valuable cargo.
Understanding Freight Shipping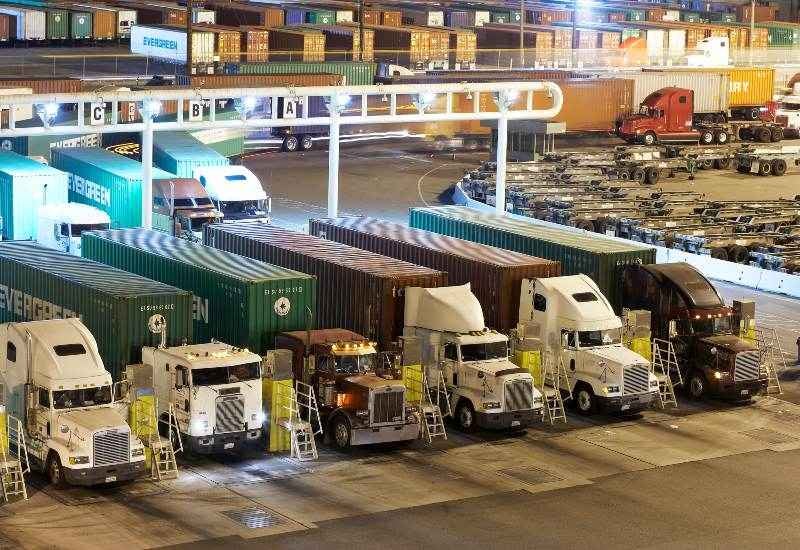 Freight shipping refers to the transportation of goods and cargo via various modes of transportation, such as truck, rail, air, and sea. Common modes of freight shipping include truckload, less than truckload (LTL) and intermodal services.
Full Truckload Freight Shipping Equipment
At L.A. Machinery Moving, we are proud to offer a range of equipment for full truckload freight shipping. Our fleet of heavy haulers includes both flatbed and step-deck trailers that can accommodate a wide variety of cargo. Our trailers are equipped with specialized features such as extendable flatbeds, removable goosenecks, and detachable trailers, which enable us to transport cargo that exceeds the legal size and weight limits.
The Importance of Choosing a Heavy Haul Trucking Service
Choosing a heavy haul trucking service is an important decision that can greatly impact the success of your transportation project. Here are several reasons why it's essential to choose a reputable and experienced heavy-haul trucking service:
Safety: Transporting large and heavy loads can be dangerous; safety must be prioritized.
Compliance: There are regulations that must be adhered to, and an experienced heavy haul trucking service will ensure full compliance.
Reliability: Time is money. It's imperative to work with a company known for quick and efficient service.
Equipment: Heavy hauling requires specialized equipment to fulfill safety standards and legal requirements.
The Benefits of Freight Shipping
Freight shipping with L.A. Machinery Moving gets your cargo to its destination promptly, safely, and in perfect condition, while offering you the following benefits:
Working with high-quality, experienced heavy-haul truck services
Cost-effective shipping costs
Custom-tailored freight shipping solutions to accommodate your needs
Timely service that exceeds your expectations
Choose Los Angeles' Most Reliable Freight Shipping Experts
At L.A. Machinery Moving, we understand that freight truck shipping is a delicate process that requires the expertise and experience of heavy haul experts. We are committed to providing our customers with the highest level of service and equipment available in the industry, with competitive pricing and cost-effective solutions to meet your transportation needs.
Our team of licensed and insured professionals has the knowledge and expertise to handle your cargo and shipping needs with care and attention to detail. Our team is equipped with the necessary training, material, and protocols to ensure a seamless transportation service that is efficient and reliable.
Contact L.A. Machinery Moving in Los Angeles, CA
When you work with L.A. Machinery Moving, you can trust that your freight truck shipping needs will be handled by experienced heavy haul experts that prioritize your cargo and shipping requirements. Contact us today to discuss your freight truck shipping job and let us take the stress out of your transportation project.
Why Choose Us?
We provide a personal touch and treat your machinery as if it were our own.
We ensure that your equipment remains in perfect condition.
We delivery machinery with speed, efficiency, and safety.
We have a capacity to crate and ship equipment internationally.
We offer free estimates and quotes.